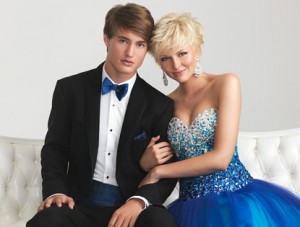 Every girl wants to look her best at prom. After all, it's a major fashion milestone! This guide will answer all of the style questions you may have about the biggest event of your high school career.
What are the best prom dresses for different body types?
When it comes to prom dresses, there are such a wide variety to choose from. Dress designers create there looks based on the many types of body shapes that exist. See which dress type flatters each figure best:
Apple – This body shape carries weight in the middle section with a shorter waistline and slender legs. Dresses that feature an empire waist or heavily embellished tops help to draw attention to the upper body and create balance. A-line dresses with full skirts also look stunning on apple shaped bodies. Dresses with accent ruching at the waist can help create the appearance of a slimmer midsection.
Busty – Busty body types have large bust area, narrowed hips, and an undefined waist. To create balance between a busty top and narrow lower body, choose a dress that hugs the hips and defines your waist. Avoid short dresses, as this can further cause an unbalance in your appearance.
Slender – Slender body types have thin frames that should be accented! Fitted dresses look stunning on this body type, as well as empire waists, asymmetrical necklines, belted waists, or dresses that feature a high slit. Any dress that features an accent at the wait or hip can help add dimension to a slender body type.
Hourglass – This figure is curvy with proportionate bust and hips balanced by long legs. Celebrate a well-defined waist with natural waistlines, form-fitting tops, dresses with v- or open-necklines, or wrap dresses.
Pear – The pear body shape is one of the most versatile body types. This shape typically features a broader hip area, small bust, and well-defined waist. Create balance by adding volume to the upper body in a fitted open neck dress or one with a strapless top. Ballgowns and A-line dresses also look fabulous on this body shape.
Petite – This body type is typically under 5' 4" tall. Dresses that show a little leg, like short prom dresses or hi-low styles, help to create the appearance of length. Similarly, slim-fitting dresses with vertical prints or high necklines also help to create length and extend an otherwise petite frame.
Do you wear a short or long dress to prom?
The prom dress you wear depends on your personal style and your body shape. Ultimately, you can wear whatever you want to your prom – this includes short and long dresses alike!
Short dresses are light, fun, and classy. You don't have to worry about your dress dragging on the dance floor, which will make dancing easier. These styles are typically less expensive than longer, more traditional dresses and often, they can be worn again to future events.
Do you wear long dresses to prom?
Long prom dresses are a chance to show off your formal side, giving you a more elegant appearance. Finding a long dress in a style that's right for your body is easier because there are a variety of styles to choose from. Unlike short dresses, long dresses come in A-line, mermaid, two-piece, ballgown, and sheath styles, amongst others.
If you're unsure of which dress you should choose, try a variety of both styles on. Regardless of the style you decide on, you should feel comfortable and confident in what you wear.
Do you wear short dresses to prom?
It's okay to wear short dresses to prom! As long as the short prom dress you choose aligns with the dress code of your particular prom, you can wear it. When paired with the right heels, some short dresses can make you look taller. No matter what color or style short dress you choose, what matters is that you feel comfortable in what you're wearing.
Can I wear my prom dress again?
Yes! Prom dresses are quite an investment, with some people spending hundreds of dollars on their dream look. As such, if you can find an excuse to wear your prom dress again, you absolutely should.
How to wear your prom dress again:
Buying a prom dress can be expensive, but fortunately, you can wear your prom dress again! There are a variety of events you can recycle your prom dress for. Get more bang for your buck by wearing your prom dress to events like:
Weddings – Eventually, members of your family will start to get married. If they're hosting a black-tie affair, recycle your prom dress for the occasion.
College Dances or Mixers – Certain college events, like awards ceremonies, dances, or sorority mixers, require formal attire. This is a great time to wear your prom dress again.
Pageants – If you're a pageant girl, wear your prom dress for your formal look!
New Year's Eve – Headed to a fancy New Year's Eve gathering? Dress to the nines in your prom dress.
Marine or Army Balls – If you have a friend or boyfriend that services in the military, chances are there will be an annual ball where formal attire is required. Your prom gown makes for the perfect ensemble for this type of occasion.
Girl's Night Out. Whether you're going to a concert or dance club, you can recycle your prom look for a girl's night out on the town.
Style guide to different types (cuts, shapes, styles) of prom dresses
The right silhouette will accentuate your body type comfortably and leave you feeling confident throughout the entire prom. These are some of the most popular prom dress silhouettes and styles:
Silhouette/Shape Guide
Ball Gown – This magical silhouette is perfect for anyone who has ever wanted to feel like a fairytale princess. These dresses feature a fitted bodice and full, dramatically flared skirt.
Fit & Flare -- Fit and flare dresses feature a fitted bodice and a flared skirt that starts just below the hip.
Mermaid -- Mermaid gowns create an ethereally enchanting shape with an extremely fitted, hugging the length of the body from the bust to the knee, where the fabric then starts to flare out into a romantic skirt. Unlike Fit and Flare or Trumpet dresses, Mermaid gowns flare immediately at or below the knee.
Trumpet Skirt -- The Trumpet silhouette is a hybrid of the Fit and Flare and the Mermaid styles. This look features a fitted bodice that gradually starts to flare out, beginning at the hips. As the name suggests, the skirt resembles the shape of a trumpet's bell.
Sheath -- This style follows the natural flow and shape of the body, creating a narrow form from the neckline down to the hem for an effortlessly stunning look. Sheath dresses are typically lighter than dresses that feature fuller skirts, like A-lines and ball gowns.
A-Line -- A slimmer looking ball gown, A-line dresses feature a fitted bodice throughout the waist and hips with a skirt that gradually widens to create a beautiful A-shaped silhouette.
Cut/Style Guide
Illusion -- These dresses feature a captivating see-through neckline or bodice made of a sheer mesh material and are usually adorned with dazzling embellishments and bold cutouts to create a stunning look.
Off The Shoulder -- Off the shoulder prom dresses have an exceptional neckline that helps show off a modest amount of skin. This style features a bit of classic flair with their delicate tiny sleeves and unique silhouette.
Short -- These styles ditch the traditional long hemline and opt for a more laid-back length. Short prom dresses have just as much personality as the classic long ones, without all the skirt.
High Neck -- These designs are polished and refined and turn heads with their embellished necklines.
Two Piece -- These midriff-baring styles are audacious and sexy, but also feature options on the modest side as well. Two-piece prom dresses get rid of the conventional one piece silhouette and offer a look that's distinct and unique.
Prom Color Guide
Most popular prom dress colors
While your options are virtually endless when it comes to prom dress colors, there are certain hues that have remained tried and true. These are the most popular prom dress colors:
Blue – Because it comes in so many different hues, blue looks great on everyone. The colors versatility is what makes it so popular. Whether you're looking for a modern, classic, or vintage look, you can find a blue dress that fits your vibe.
Red – Red is a sultry, sexy color that also provides a look of sophistication. This color works for a variety of skin tones, making it another popular color for prom.
White – While this color is typically associated with a wedding, many girls choose to wear it for their prom. It's an easily accessorized color that pairs wonderfully with rich skin tones. White is also a common color on the red carpet and therefore highly coveted by teens across America.
Black – Black is a popular dress color for prom because of its ability to help hide flaws. Black fabric can make your figure appear slimmer and it's an easy color to accessorize.
Pastels – These delicate, feminine hues have becoming increasingly popular. Whether they make up the entire dress or they're featured in a motif or pattern, pastel colors create a fun and flirty look for prom.
Jewel Tones – These dark, romantic colors look stunning on a variety of skin tones, making them extremely popular for prom. Burgundy, emerald, navy, and deep purple are very common jewel tones for prom dresses.
Neutrals – From champagne to eggshell and blush, neutral hues are very popular colors for prom. If you're looking for a neutral prom dress, it's important to choose a shade that compliments your skin tone.
Metallics – Shining, shimmering prom dresses have always been popular. Prom is a time to stand out, so many people seek dresses made with fabrics that offer a sheen or dresses that feature a lot of embellishments and bead work.
What color should my prom dress be?
There is no right or wrong answer to this question - your prom dress should be any color that you want it to be! If you're unsure where to start, consider all the colors you enjoy. Are you a fan of cool colors or do you vibe more with warm tones? If you can't decide on a color, consider searching for a pattern that features all of the colors enjoy. Prom dresses are available in such a variety of colors and designs, it's easy to find a look that's right for you.
What are prom colors?
Prom colors can be anything you want them to be. Choosing a dress for prom is all about your personal style, so you can virtually wear any color or combination of colors that you like!
How do you wear a plain black dress?
Black has become a very popular option for prom. It's a color that looks great on everyone and helps to give you a slimmer appearance. If you're wearing a plain black dress to prom, it's important to accessorize! When choosing jewelry, look for statement pieces in bold colors or metallics. If you're going to wear jewelry, choose two pieces. Over-accessorizing can quickly cause chaos in your black prom dress. To avoid this problem, choose two pieces of jewelry, like earrings and a necklace or a bracelet and a ring. To keep your look cohesive, match your shoes and purse with the accessories that you're wearing.
Can you wear a black dress to prom?
You can't go wrong with a black dress! Thanks to stars like Audrey Hepburn and Carrie Bradshaw, the "little black dress" has become a staple in formal attire. It's one of the most popular colors for prom dresses and can be accessorized with pops of color, metallics, or neutral elements. Black dresses never go out of style and can easily be worn again to a variety of occasions.
Best prom dress colors for skin tones/hair color
Many people want to look their best at prom, so they consider a look that will pair well with their natural features, like their skin tone and hair color.
What colors look good on me?
To choose the prom dress that's right for you, consider your skin tone:
Dark Skin
Any bright jewel tone or pastel color will compliment dark skin tones and make a dark complexion pop. Rich shades, like gold and copper, also work well with deep skin tones. Colors that work best include ruby and amethyst.
Stay away from shades of brown and black, as these can completely wash out dark skin tones. Other colors like blues, silvers, and grays should be avoided, as cool colors appear harsher on dark skin. Even neutrals like gray can make dark skin look fatigued, so stick to colors that pop.
Medium Skin
Jewel colors compliment medium skin tones and bring out skin's warm undertones. Anything in the blue or green family looks great on medium skin, specifically emerald and turquoise. Other jewel colors for medium skin tones include ruby, sapphire, and amethyst.
It's best to stay away from shades of brown, beige, and orange, as these colors can wipe out your complexion. Also avoid wearing pastels, as these colors tend to bring out gray undertones in your skin.
Olive Skin
Olive skin tones have it made and can wear almost any color. Bright shades of pink and coral look best on this skin tone, as these hues pick up on the subtle hints of red in olive skin. If you're looking to bring out the brown undertones of olive skin, wear any shade of green. Shades of orange and vibrant reds also compliment olive skin complexions.
Be careful about wearing neutral colors like beige or tan. These colors don't work as well as vibrant colors and can make the skin appear dull.
Warm Light Skin:
If you fall into the warm undertone fair skin category (red or blonde hair, hint of rosiness in the cheeks) opt for earthy tones, like browns and greens. Neutral colors like beige, navy, and gray will also work well with warm, fair skin.
Stay away from brightly colored garments, particularly neon colors. It's also a good idea to stay away from drastic colors like black and white. Black can look too harsh on fair skin and white can wash fair skin out.
Cool Light Skin:
If you fall into the cool undertone fair skin category (dark hair, no color in the cheeks) opt for shades of red and pink. Peachy hues work best, but jewel tones also work well with fair skin.
Avoid metallic colors as they can wash out fair skin. If you're set on metallic, opt for gold over silver. Pale shades of yellow and purple can wash out the skin, so steer clear of these colors.
What colors look good on brunettes?
Brunettes look great in a multitude of colors, but if your hair is dark, you look best in bright colors. Think jewel tones like turquoise, magenta, or chartreuse. White is another color that looks stunning on brunettes. Metallics and certain neutrals, like beige, will also look great on brunettes.
For those with blonde hair, pastel colors like lavender and mint work well. If your blonde is a warm tone, opt for a bright color like red, orange, or purple.
Redheads look stunning in emerald tones as well as purples, blues, and metallic silver. Avoid pink and red hues, as they tend to wash you out.
All in all, regardless of your hair color, it's about wearing a color that makes you feel confident.
What color prom dress looks good on pale skin?
If your pale skin has warm undertones, opt for dresses in earthy tones like tan, beige, brown, and green. Neutrals also work, including colors like navy and gray.
If your pale skin has cool undertones, wear silver or pastel hues of your favorite color. These lighter hues help compliment your skin tone without washing you out.
Pale skin tones should steer clear of stark colors like red, black, or white.